« Ȋnapoi
Riverside Casino and Golf Resort
3184 Highway 22, 52327 ,
Vedere de ansamblu

Arată hartă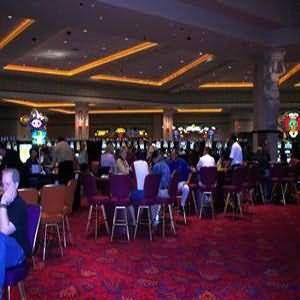 Riverside Casino and Golf Resort - Descriere
Hotelul are 201Citeşte în continuare camere din categoria Room şi Room. Cele mai mici preţuri la Riverside Casino and Golf Resort încep de la 140 Euro.Cu un stil lux, acest hotel de patru stele este situat în Riverside. Mai multe tipuri de dotări sunt disponibile, cu precădere Centru de afaceri.La 10 minute cu maşina de centru, acest hotel se află în Riverside pe strada 3184 Highway 22, în partea de est a oraşului. Este ideal dacă doriţi să descoperiţi oraşul şi împrejurimile.Acest hotel vă oferă un serviciu unic: teren de golf în apropiere.Profitaţi de piscină la care aveţi acces în acest hotel.Acest hotel aparţine lanţului hotelier WV.

Riverside Casino and Golf Resort tip(uri): familie ,staţiune ,lux
Acest hotel aparţine de: WV™
Riverside Casino and Golf Resort dotări şi servicii
General
Camere familiale
Port acces internet
Coridoare interioare
Staţiune
Clasa întâi
Accesibil pentru scaun cu rotile
Piscină
Activităţi
Teren de golf în apropiere
Sală de jocuri
Servicii
Curăţare uscată
Săli de reuniune
Centru congrese
Centru de afaceri
Activităţi viitoare
Stadion

18,1 km

Iowa Field House:

18,2 km

Kinnick Stadium:

18,7 km

Carver-Hawkeye Arena:

Muzeu

18,8 km

University of Iowa Museum of Art:

18,1 km

University of Iowa Medical Museum:

18,3 km

Arts Iowa City Center and Gallery:

14,9 km

Kalona Quilt and Textile Museum:

24,2 km

Herbert Hoover Presidential Library and Museum:

22,8 km

Iowa Children's Museum:

18,4 km

University of Iowa Museum of Natural History:

Zonă de shopping

22,5 km

Coral Ridge Mall:

Golf si alte sporturi

35,9 km

Lake Macbride Golf Course:

17,9 km

Fairview Golf Course:

18,7 km

Finkbine Golf Course:

38,3 km

Lagos Acres Golf Country Club:

13 km

Pleasant Valley Golf Course:

16,1 km

Kalona Golf Club:

27,8 km

Cedar Crest Country Club:

15,9 km

Kalona:

27,9 km

Washington Golf Country Club:

20,6 km

Hi Point Golf Course:

22,3 km

Brown Deer Golf Club:

27 km

Quail Creek Golf Course:

Spa si piscină

16,9 km

Mercer Park Aquatic Center:

15,8 km

New Life Fitness World - Iowa City:

18 km

Robert A. Lee Community Recreation Center:

21,1 km

Coralville Recreation Center Indoor Pool:

28,9 km

North Liberty Iowa Community and Recreation Center:

18,6 km

La' James International College and Tuscany Day Spa:

39,4 km

Muscatine Family YMCA and YWCA: